Waterproof Flooring in San Jose, CA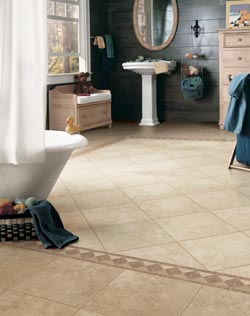 Browse a full selection of waterproof flooring in San Jose, CA at Murison's Flooring America. Update your home with eye-catching materials that are water-resistant and easy to maintain with the practical solutions you're looking for. Come to our showroom and see our variety of waterproof products from industry-leading brands such as Downs H20 and Tigressa H20. We have vinyl and carpet options that are great for any room in the house. If you are tired of worrying about spills and stains on your home flooring, these waterproof materials are right for you.
Waterproof Vinyl Flooring
Vinyl is a popular flooring material that allows you to transform your home interior with the authentic look of wood or tile. This durable flooring style has built-in layers that make it resistant to spills and heavy foot traffic. Our waterproof vinyl is a stylish way to protect your floor while embellishing your property's design appeal. Vinyl is an ideal choice for busy households with children and pets. When you need a low-maintenance floor that withstands your active family, try our waterproof vinyl flooring. Available in planks and tiles of various colors and patterns, these products are well-suited for virtually any indoor design preference.
The Comfort of Waterproof Carpet
Homeowners who like the idea of waterproof floors but would rather have the cozy softness of carpet are in luck. Our showroom features a range of waterproof carpets that feel great underfoot and stand up against spills. As our customer, you can enjoy the classic look of carpet inside your home without worrying about liquids damaging the fibers and soaking into the subfloor. These easy-to-clean carpets don't retain stains or odors, and whatever your interior design goals are, you'll find a carpet that works for you in our collection. Our friendly store associates are here to help you navigate our wide assortment of carpeting.
Durable Flooring, Professional Installation
Once you have selected the waterproof floors you like the best, our experienced professionals come to you to ensure that your new purchase is installed correctly and efficiently. Our store is committed to each customer's complete satisfaction. To us, that means providing superior products and thorough customer service. When you are thinking about making your home interior, consult with us. Our design experts and professional flooring installers will make sure your home improvement project is a success.

Contact us for more information about our waterproof flooring options. We proudly serve customers at our showroom in San Jose, California.