Tile Flooring in San Jose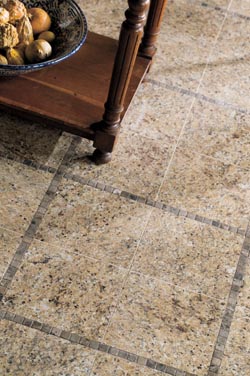 You want flooring that offers a wealth of selection in decorating and lifestyle preferences. If so, shop our stunning collections of tile flooring for your home or place of business. We have a showroom stocked with tile samples, including numerous brands, styles, sizes, shapes, and colors. Ask our design and sales professionals to guide you in selecting a tile floor that is appealing, practical, and perfectly matched to your space.
Let us ask you questions about your likes and dislikes in color and style, as well as the space where you will use your new tile. This allows our experts to locate tile that pleases you and complements your room decor. You are sure to find the flooring that best suits your needs in looks, performance, and price.
You can browse through our wide array of tile floors in our expansive showroom or you can ask for a free on-site consultation. When we come to your home or business establishment, we bring the tile to you. After you have made your choice, we offer professional tile flooring installation for the life-long protection of your investment.
Tile Floor Options in Porcelain, Ceramic, & Slate
There are three main types of tile floors – porcelain, ceramic, and stone. Which type you choose for your home or business depends on your decorating preferences and lifestyle requirements. For a contemporary approach, consider wood-look tile as a hardwood alternative.
Porcelain and ceramic share many similarities. These types of tile flooring are fired in kilns for beauty and strength. Both provide resistance to fire, moisture, and frost. Both boost your property value and offer long-lasting beauty.

As to the differences, porcelain carries a modern appeal that makes it popular in homes with contemporary décor. However, do not limit porcelain to a single aesthetic for its streamlined beauty complements any decorating style. Porcelain is denser and heavier than ceramic.
Ceramic tile is valued for its elegance. This flooring option has the ability to make everything in a room look high-end and upscale. Ceramic tile flooring is softer than porcelain and easier to cut and costs a little less than its sister tile.
Another choice we offer our customers with tile is stone tile. The most popular selection is slate. This stunning natural stone comes in the rich colors of the earth and offers fascinating variations in pattern that are unique to each slab. Heavy and dense, slate is an elegant choice for a number of rooms and areas in the home.
Tile Flooring Installation for Precision Workmanship
All types of tile flooring demand professional installation. This is because of the precision and proper placement that is essential with this flooring option. We recommend you choose our in-store installation specialists to lay your tile flooring. Our experts have been installing tile for a number of years and have the experience to perform to perfection.
Make installation easy by asking our specialists to come to your home or place of business. We arrive promptly and prepare the subfloor so it is clean and level. Next, we trowel on mortar and carefully place the tiles. We apply grout between each tile so they do not rub together and chip. Our professionals ensure that each tile is secure and level for the beauty of appearance and protection from damage. With professional installation, your tile floors look lovely and last for years.
Contact us today to help you choose between porcelain, ceramic, or slate tile for your home or business. We proudly serve clients throughout San Jose, Campbell, Cupertino, Los Altos, Milpitas, and the entire Santa Clara County, California, area.