Hardwood Flooring in San Jose, CA
Give your home a sophisticated upgrade with our timeless collection of hardwood flooring here at Murison's Flooring America. Hardwood floors add a natural warmth and beauty to any space with their traditional appeal. Whether you're looking for a knotted pine in the kitchen or a wire-brushed red oak in the bedroom, we have you covered.
At Murison's Flooring America, we believe shopping for new flooring should be fun! That's why we take away all the stress by listening to your lifestyle, budget, and design goals to present the best hardwood flooring options for your personal needs. We have a wide range of wood species, grain patterns, and color hues to fit any home decor. Visit our San Jose, California, showroom today to view our expansive hardwood flooring selections!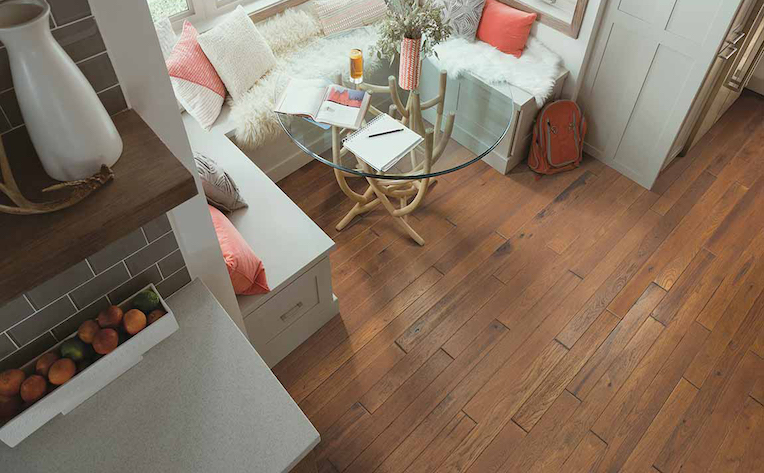 Types of Hardwood Flooring: Solid & Engineered
Choosing hardwood flooring for your next design project is made that much easier with our unlimited options of durable hardwood styles. While we carry traditional wood floors made entirely of solid wood throughout, we also offer engineered hardwood flooring options. No matter your lifestyle, our friendly flooring experts will guide you toward the hardwood flooring type that best suits your needs. Discover the two types of hardwood floors we carry at our San Jose, CA flooring store:
Engineered Wood Flooring
Our most popular hardwood flooring choice, engineered hardwood performs better in humid climates due to its resistance to expansion and contraction. Designed with a durable rigid core and a thin veneer of real solid wood, you can achieve the hardwood look with added performance that meets your household's demands. This kid-proof and pet-proof hardwood can be installed anywhere in the home, including your kitchen, laundry room, and basement.
Solid Hardwood Flooring
If you want a true hardwood floor, we carry a vast selection of solid wood planks in a variety of cuts, plank sizes, grain patterns, stains, and finishes. Your design options are endless and you can rest assured knowing you have the durable, long-lasting real deal. Paired with our expert hardwood installations, you will impress your guests with flooring that lasts a lifetime. We also offer a variety of reclaimed wood or botanical wood species.
Benefits of Hardwood Floors for Your Santa Clara County Home
There's a reason our San Jose customers continue to choose hardwood flooring for their homes. Its timeless appeal is not only aesthetic, but hardwood floors are also one of the longest-lasting flooring choices on the market. Whether you want to create an air of elegance in your living room or renovate your entire home, we have exactly what you need.
As a local flooring store and a part of Flooring America, we can give you the best deals on top hardwood brands in the industry like Baroque, Metropolitan, Christine, and more. Discover all the benefits of choosing hardwood floors:
Enhanced Property Value: Opting for hardwood flooring can boost the value of your San Jose home.
Versatile Style Choices: Hardwood offers a wide range of style options, allowing you to find the perfect look for your space.
Exceptional Durability in High-Traffic Areas: Hardwood floors exhibit remarkable strength, making them ideal for areas with heavy foot traffic.
Longevity with Minimal Maintenance: With simple upkeep, hardwood floors can last a lifetime, maintaining their pristine appearance.
Renewed Aesthetic Potential: Over the years, you have the opportunity to refinish and rejuvenate your solid hardwood floors, ensuring they always look their best.
Unique Installation Patterns: Create a one-of-a-kind look with custom installation patterns, adding a distinctive touch to your home.
Moisture-Resistant Options: Choose from water-resistant engineered wood options for areas prone to moisture, providing durability in diverse environments.
Effortless Hardwood Flooring Care: Our selection of hardwood floors is designed to be low maintenance, allowing your floors to retain their like-new appearance for years with proper care.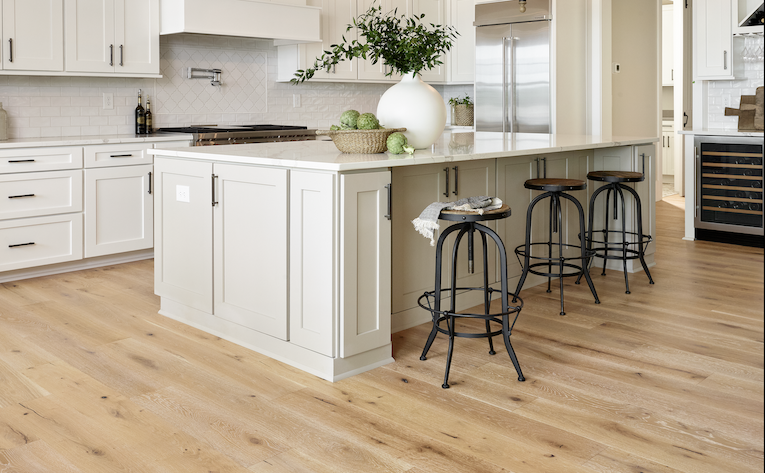 How To Properly Acclimate Hardwood Floor Planks
For hardwood flooring installations, achieving proper acclimation is crucial to guarantee a flawless appearance and long-lasting resilience. To prevent potential issues like warping or cracking down the line, it's vital for the wooden planks to adapt to the moisture levels present in each room where they will be installed. We initiate the installation process with confidence once the moisture content of the wood aligns with that of the surrounding air. The duration of hardwood acclimation varies and is contingent on the disparity between the wood's moisture and the ambient air's moisture, as many San Jose customers often inquire about this timeframe.
Hardwood Flooring Installation with Our San Jose Contractors
At Murison's Flooring America, your home design dreams are our top priority, and our experienced installation contractors are prepared to deliver you a seamless installation. Trust our team of experts to install your new hardwood floors as they will come equipped with the best tools and skills in the industry.
With our Adore Your Floor Guarantee, you have the final say. If you are unhappy with your new floors within 30 days of installation, we will replace them for free with a product of a similar cost. Are you ready to begin your hardwood flooring renovation?

Contact us today to learn more about hardwood flooring for your home! We proudly serve San Jose, Los Altos, and Milpitas, CA.