Flooring Services | Murison's Flooring America
When it comes to making the best choices for your home, you should start with the most extensive selection available. San Jose residents have trusted Murison's Flooring America for our outstanding assortment of floor solutions and services for the past 54 years. We offer high-quality residential and commercial flooring in a variety of popular styles, including different materials, colors, textures, and more. Aside from flooring, our business also offers services relating to a variety of products, such as window covering installation, upholstery services, and area rug binding. We have everything you'll need to turn your design space into a showstopper. Read on to learn more about the many services we offer:
Residential Flooring Installation
After you've chosen the perfect flooring for your home, it's time to plan for installation. A sloppy installation is the last thing anyone wants. Pieces that are misaligned and chips that are unattractive detract from the elegance of your property. We install your new floors with the highest care and skill to guarantee they look excellent for years to come. Any project, no matter how big or small, is handled by our skilled professionals. Whether you're furnishing a single room or your entire home, we've got you covered.
Commercial Flooring Installation
Along with residential installations, our technicians are equipped to handle larger projects for commercial businesses and office spaces. Visit our showroom and chat with an associate to discuss what flooring options may be best suited for commercial properties, such as laminate or luxury vinyl.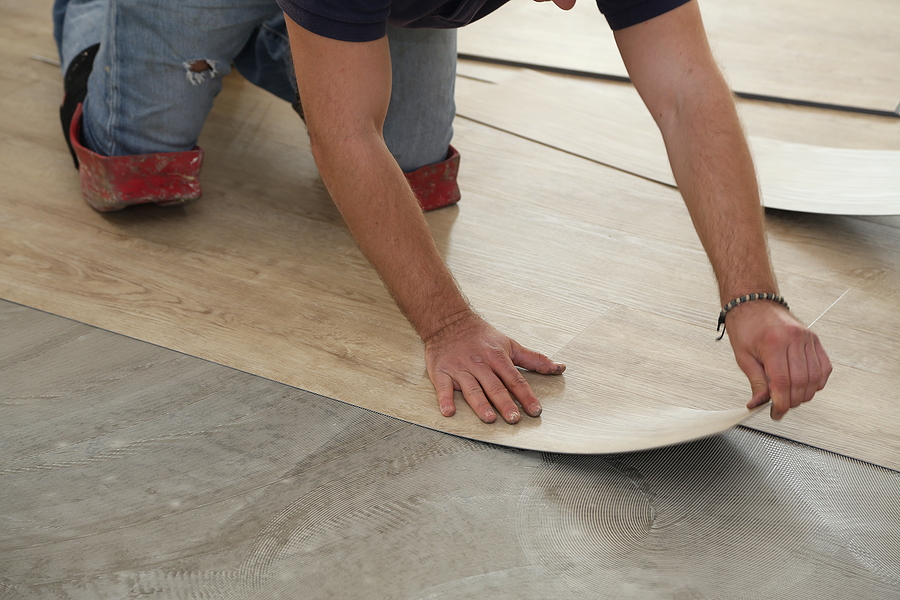 Window Treatment Installation
Have you recently purchased a new set of drapes, shades, or blinds and need some assistance with their installation? Our installation crew can quickly hang your new window coverings with ease. Browse our collection of window treatments which include name brands like Hunter Douglas, Norman, and Graber.
Healthier Living Installation
The Healthier Living Installation System provides a wide range of health benefits for you and your family by significantly decreasing dust, mold, allergens, odor-causing mildew, and germs that standard carpet installs fail to address. Designed to improve indoor air quality from your carpet, this system is built to protect the life of your carpet and the air in your home.
In-Store Area Rug Binding
Turn carpet remnants from a recent carpeting remodel into a beautiful new bound area rug. We can also bind existing area rugs that to prevent unraveling and damage. Simply bring your carpeting materials to our showroom and we can have your area rug spruced up in no time.
Our sanding and refinishing services give your hardwood floors a new life. We start by sanding away the imperfections of the existing wood floor, revealing a clean, flat surface. After the floor is stained, we apply three layers of finishing product to provide a solid barrier against wear and tear for years to come.
Financing & Insurance Services
You don't have to wait to update your floors. Buying now is easy and convenient with Special Financing! Choose from soft carpet, elegant hardwood and tile, durable laminate and vinyl, and more. No matter what your style is, we've got a floor you're sure to love! Click here to learn more.
For a convenient shopping experience, visit our Ann Arbor flooring store in person, or shop online by visiting our website. Navigate to the "Shop Now" option on our homepage for a convenient, at-home process. You can browse our many selections of flooring materials by color, price, warranty, design, and more to help you narrow down which option may be best for your home. Create a login and save different products to your home project or request a quote within the Shop at Home feature. With our online catalog, our customers can see each material in up-close photographs as well as staged environments to help visualize what the product may look like in their own homes.
Custom Upholstery Services
If your couch is looking ripped, faded, or stained, it's time for some fresh upholstery. Upholstery refers to the materials that make up the soft coverings of chairs, sofas, and other furniture, such as cloth, padding, webbing, and springs. Our team of technicians can beautifully upholster your existing couch to give it a fresh look and feel without breaking the bank.
Contact us today to learn more about our comprehensive services. We proudly serve clients in San Jose, Campbell, Cupertino, Los Altos, and Milpitas, California, including the surrounding areas.