Carpet Flooring in San Jose, CA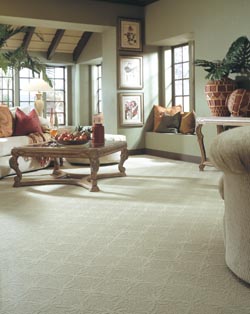 Adding a touch of comfort and class to your favorite rooms is as simple as installing a gorgeous carpet floor. For more than 50 years, local homeowners have depended on our professionals to meet all of their carpet flooring needs. We're committed to staying by your side throughout the entire process, from selecting the perfect carpet for your home to our professional carpet flooring installation.
We understand that after a certain amount of wear and tear, no amount of cleaning will improve the look of old carpet. Our team of friendly employees is here to help you rejuvenate the look of your home by installing pristine and long-lasting carpet. Simply visit us at our local store and showroom to discover the amazing selection of carpet styles and types. We're proud to carry all of the industry's leading brands at everyday low prices. You won't regret your investment in a comprehensive carpet flooring replacement. Your friends, family members, and pets are sure to love having a clean and refreshed environment in which to spend time together, and you'll love the added coziness and sophistication that your new carpet brings to any room in the house.
Comfort, style, practicality, and warmth are just a few of the words that come to mind when you think about carpet flooring. A gorgeous carpet has the ability to breathe new life into any of your favorite rooms, including your living room, bedroom, or hallway. Carpet is ideal for anyone who enjoys a combination of luxury and coziness. Not to mention, carpet is the perfect choice for families with children and pets, providing them with a great environment for playing and relaxing.
Advances in floor manufacturing processes have made carpet more durable and long-lasting than ever before. At our store and showroom, our carpet professionals are happy to discuss the many benefits of carpeting in order to help you choose the style, brand, and type that work best with your lifestyle, existing décor, and budget. We even have an impressive variety of pet-friendly and stain-resistant options. You'll love knowing that, when cared for properly, your new carpet will stay visually appealing for many years to come. Impress all of your friend and visitors with your decision to choose a beautiful and trendy carpet floor.
High-Quality Carpet Flooring Options
You've worked hard to give your home a personality as unique as your own. You deserve flooring that wonderfully complements your existing design styles and preferences. When you choose us for your next carpet floor project, you get the freedom to select from countless in-stock and on-display carpet varieties featuring a wide range of hues, patterns, styles, and fashions. From strong materials to plush textures, we truly have the perfect carpet design for every home.
Our customers absolutely love our selection of Berber carpeting, known for its durability, stain-resistance, and affordability. We carry this versatile style in a number of attractive options, allowing you to choose the style that will look best in your home. In addition to Berber carpet, we also offer the following popular and stylish carpet flooring varieties:
Plush
Textured Plush
Saxony
Frieze
Loop Pile
Patterned
Carpet Flooring Installation by the Experts
Installing a new carpet in your home doesn't have to empty your bank account. In fact, when you depend on us for carpet flooring installation, you save both time and money. Leave the hard work to us--we have years of experience professionally installing carpets. Our skills mean that your new carpet floor will stay in top condition for years to come, saving you from needing to make costly repairs and replacements in the future. Every installation performed by our friendly technicians is completed with speed and skill. You'll love the new, rejuvenated look of your home and carpet floors, but you'll love how affordable the entire installation process was even more.
We are extremely confident in our carpet technicians and want our clients to share that same confidence. This is precisely why we back all our installations with our Ultimate Confidence Guarantee. If you are unsatisfied with any aspect of your new carpet flooring, simply let us know with 30 days of purchase and we'll replace it with a similar product absolutely free. We look forward to seeing you in our showroom to discuss the countless carpet options for your home. Remember, we are also your source for window treatments and coverings.
Contact us today to schedule a free carpet flooring consultation. Our carpet specializes are proud to serve customers from all over Santa Clara County, including San Jose, Campbell, Cupertino, Los Altos, and Milpitas, California.