Design Trends and Inspiration
Jan 28, 2022
The new year brings forth feelings of excitement for what's to come. With any luck, that usually involves a few home edits. This season, we're featuring room-by-room inspiration to get the most out of every space in your home. Whether it's a cozy bedroom or a room specifically made for movie nights, you'll love these beautifully styled spaces.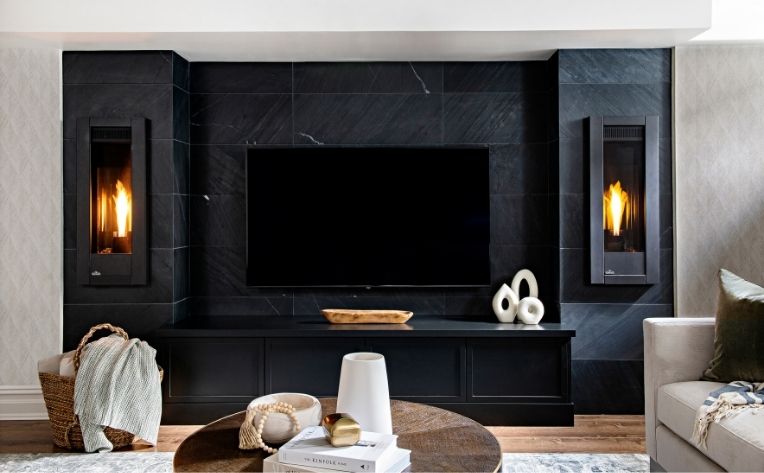 Design by HIBOU DESIGN + CO Photography by MIKE CHAJECKI
Recreation Room: Expanded Viewing
The recreation room trend has truly become a hit, and for good reason. With more time being spent at home, there's simply no excuse not to invest in a space where you can watch your favorite movies and shows in style. Get comfortable, pull out your warmest throw blankets, and get ready for an at-home viewing experience like no other!
From large televisions and projectors built into the ceiling to huge sectionals and mood lighting, the recreation room will quickly become a place of comfort and rest. While large furnishings and electronics may steer the design, touches of details like built-in cabinet storage, additional seating and throws, and knick-knacks will enhance the appearance of the room and make it feel more like home.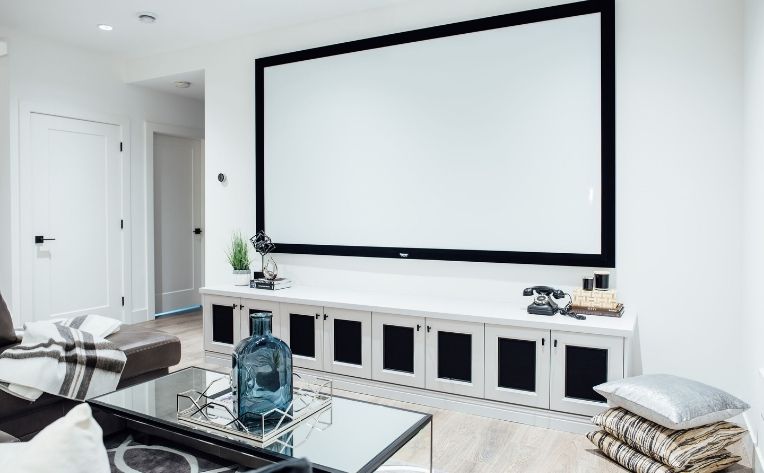 Design by KALU INTERIORS Photography by PROVOKE STUDIOS AND JULIE ROW
Bedroom: Accent Walls
Characterized by striking colors, classic architecture, eye-catching wallpaper, or a combination of all three, accent walls are a hot trend that takes an otherwise modest room—the bedroom— from simple to stunning. And they do so incredibly quickly! Even the simplest accent wall can draw attention and pull the design in a specific direction, such as cozy, modern, or even farmhouse-style.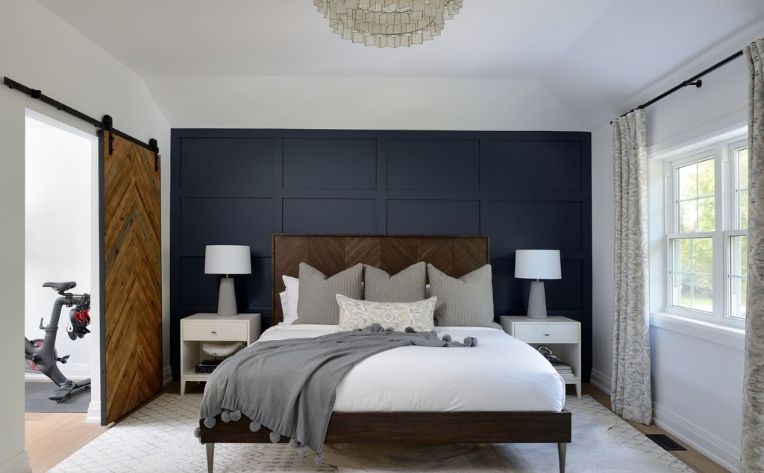 Design by MICHELLE BERWICK Photography by LARRY ARNAL
Take it from us—a deep board and batten wall from floor to ceiling warms and balances a bedroom design and will further accentuate a stunning light fixture and heavy textures. On the other hand, a busy mixed-media wallpaper will shine when paired with simpler furnishings and décor, while still achieving a design full of personality and fun. For simpler, more neutral accent walls or for those who are looking to go in a different direction with the design, a bold color on the walls will do the trick. Paired with natural light and greenery, it's impossible not to fall in love.
Kitchen: Colored Cabinetry
Known for being the heart of the home, the kitchen is a space that consistently delivers as a room worth investing in. This season, colored cabinetry has become one of the most popular upgrades. Not only can colored cabinetry create uniqueness and sophistication, but it can also ground and balance the room when bold neutrals are involved. Cabinet colors range from deep tonal hues to vibrant, bold offerings that are equally as trendy as they are elegant.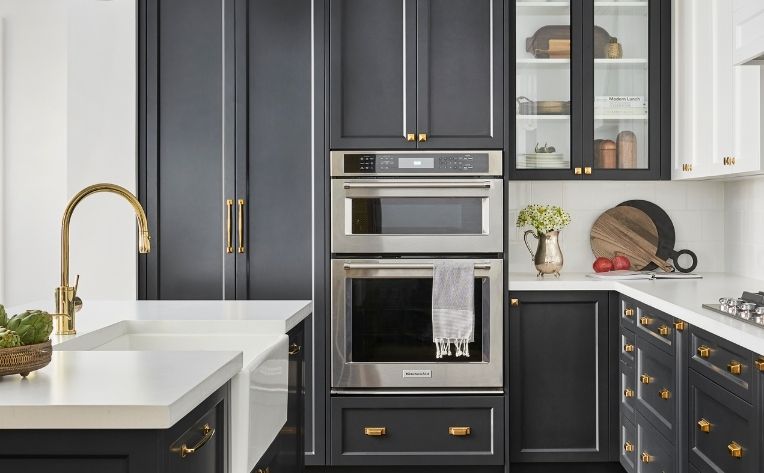 Design by REBECCA HAY Photography by STEPHANI BUCHMAN
Whether it's deep blue-gray cabinets with brass knobs and pulls or a bold kitchen island that adds the pop of an unexpected hue, colored cabinetry has proven to be one of the hottest go-to trends for the upcoming year.
Laundry Room: Elevated Elements
An otherwise ordinary space, the typical laundry room begs for a bit of décor to complete its look. However, with a few elevated elements, it can be transformed into a space full of light where tasks that can't be avoided can be completed. Washing and drying clothes, ironing, and making room for other items is quick and easy in a space that fits with the rest of the home. And who wouldn't want to do laundry in a beautiful laundry room?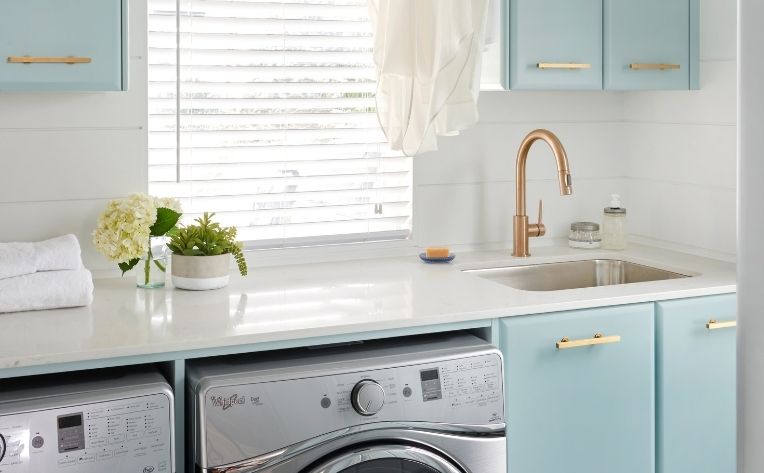 Design by CYNTHIA SODA Photography by STEPHANI BUCHMAN
Increasing storage by adding beautiful cabinetry, fresh hardware, and polished lighting will do wonders for a laundry space. As a result of its functionality, this trend is on the move and is sure to last for years to come.
The Office: Built-in Storage
Storage is one of the most desired elements in today's homes, particularly when it comes to home offices. Books, reference guides, and other literature serve their purpose, but where do they go when they need to be put away? Built-in storage is a solution that offers a straightforward approach, which is why it's considered a top trend for office spaces this year.
Design by MICHELLE BERWICK Photography by LARRY ARNAL
Built-in shelving can be used as a storage area for office-related books, novels, journals, or other guides. Adding décor, like greenery or photos, creates a personal touch and serves as a reminder of loved ones and favorite pastimes.
Looking for more design inspiration and insight into this year's home design trends? Check out our latest issue of Design at Home magazine to get expert design advice and learn about this year's floor trends!
Continue Reading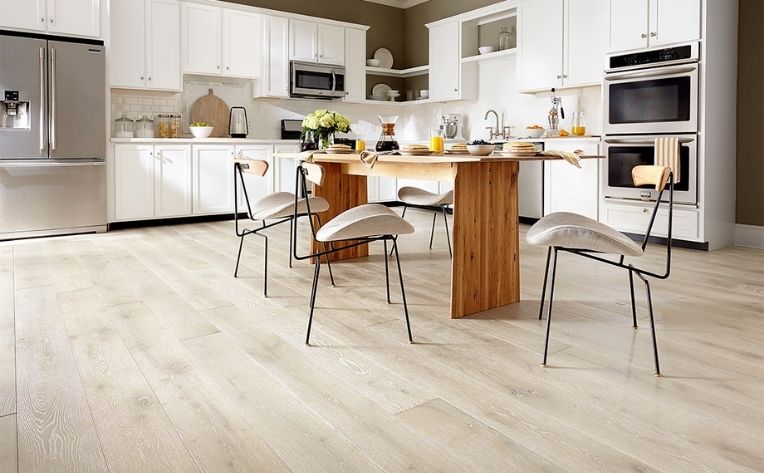 Jan 25, 2022
As we kick off 2022, the first flooring trend to consider is the "lighter and brighter" style. Light floors will continue to be popular this year, making light hardwood such as white oak and white ash top-of-the-line choices for many homeowners looking to redo their flooring. Aside from adding an airy, open vibe to your place, lighter floors can give your home the illusion of space. Much like mirrors, light surfaces refract light, so when installed in rooms that might have fewer windows and natural light, the space feels bigger and less boxed in.
Check out these four flooring products that brilliantly embody the lighter and brighter trend:
White-Washed Luxury Vinyl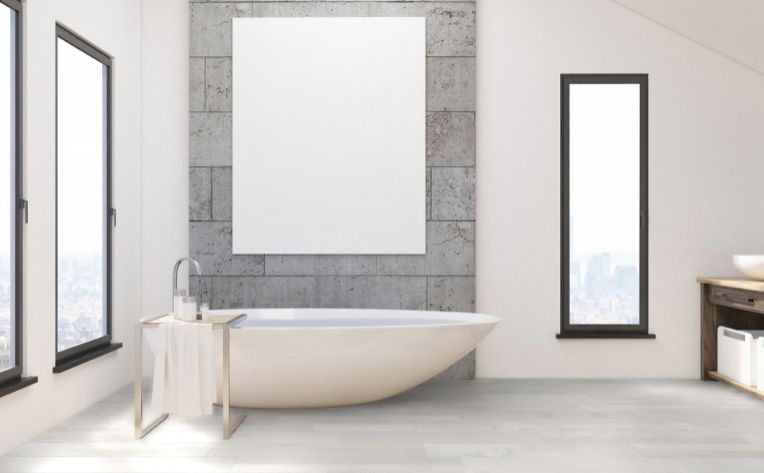 Downs Timber in Gainsboro by Downs H2O
Light flooring has been a go-to for many looking to inspire contemporary design and you can do just that with Downs H2O Timber luxury vinyl plank in Gainsboro. This trend-setting product is a washed-out white-oak look that can be installed anywhere in your home. Its embossed-in-register detailing beautifully mimics authentic hardwood, but the vinyl material is far more resistant to scuffs and scratches. With waterproof technology, you can install Downs H2O Timber in your bathrooms, kitchens, and basements without having to worry about spills or messes.
Bright Engineered Hardwood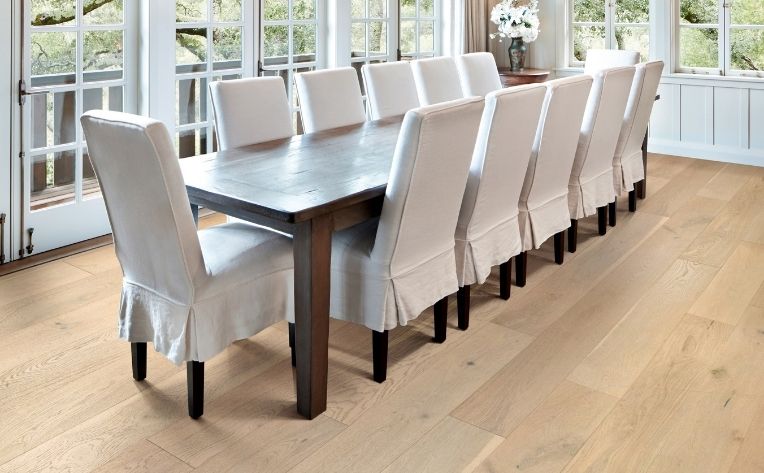 Looking for a more traditional lighter and brighter product? Try Amur Oak hardwood by Downs in the honey-blonde Verona hue. This aged oak floor features wide boards and captivating grain patterns with warm hues reminiscent of an old-world charm. Plus, Amur Oak is an engineered hardwood from our exclusive Downs Sawn Face collection, which means that you can install this floor above and below grade. The distressed surface of this hardwood gives it a unique visual appeal and boasts a tough finish that's made to last. Go lighter and brighter with hardwood that's engineered to withstand your toughest household messes.
Plush White Carpet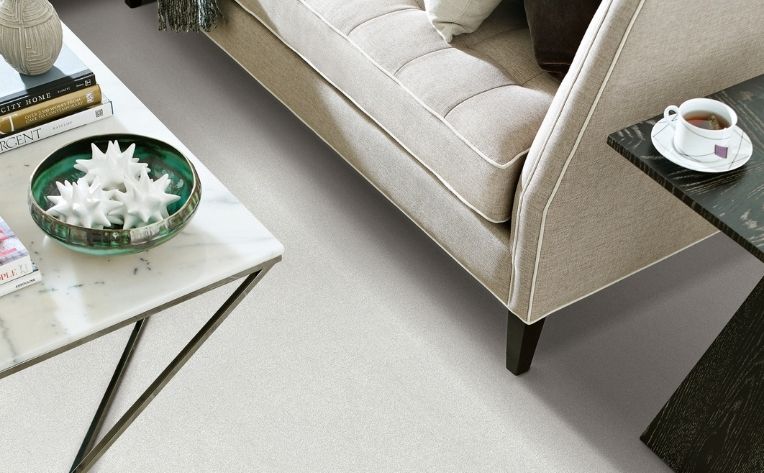 Groundstroke Plus in Etched by Tigressa
For homeowners searching for a cozy and bright floor that's soft underfoot, check out Tigressa's Groundstroke Plus in Etched. This beautiful ivory-colored carpet is crafted from recycled materials making it an eco-friendly option for your home. It will add an inviting, relaxed vibe to any room of the house with its popular, casual textured Saxony styling designed to enhance your interior design. A comfortable, plush white carpet can instantly elevate your basement into a game room or an at-home theater with fade-resistant, resilient fibers that are extremely resistant against crushing from heavy foot traffic.
White Oak Performance Flooring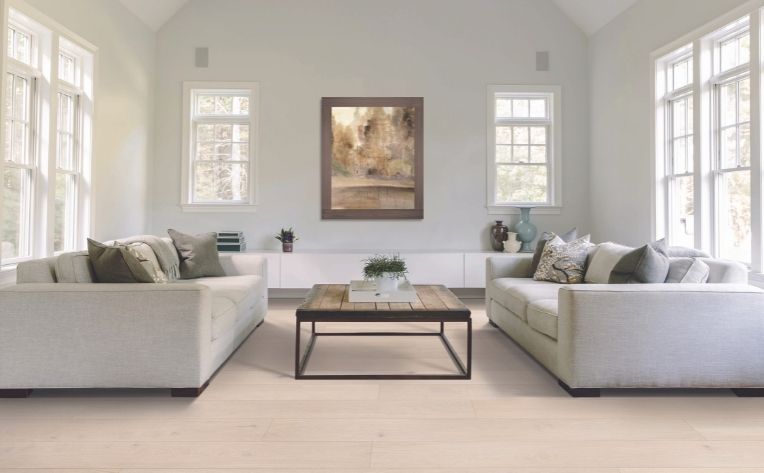 For a lighter and brighter durable, waterproof flooring option, check out Floorcraft's performance flooring in Ventura Oak. This oak-look laminate features a light wash to give it a faded white oak appeal. Its engineered construction is more resistant to humidity than a typical laminate and can be installed in any level of your home. Meeting the highest performance standards, this performance flooring solution is the perfect blend of traditional wood-look and contemporary style.
Of course, if you aren't sure which type of flooring solution would be best for your home environment, consult the professionals at your local Flooring America for expert flooring advice. And don't forget to check out our 2022 Style Watch list to read more about this year's top flooring trends and products.
Continue Reading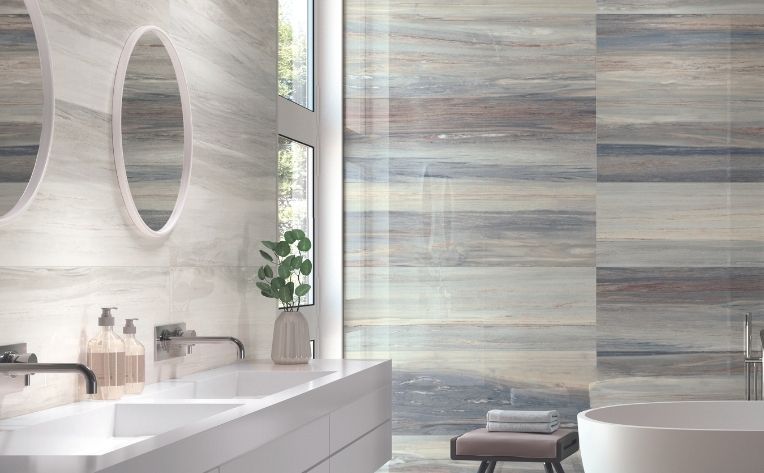 Jan 19, 2022
It's the moment interior designers wait for all year: the Pantone Color of the Year announcement. Pantone refers to itself as "The global authority for color communication and inspiration since 1963" and has been incredibly influential in a variety of industries thanks to its proprietary color-matching system. Every year, it forecasts a new color trend it believes will resonate in the year ahead. This year, it announced PANTONE 17-3938 Very Peri as the color of the year for 2022, and we are sure you can expect to see the shade show up in everything from furniture to décor to possibilities for your next floor.
An Expert Breakdown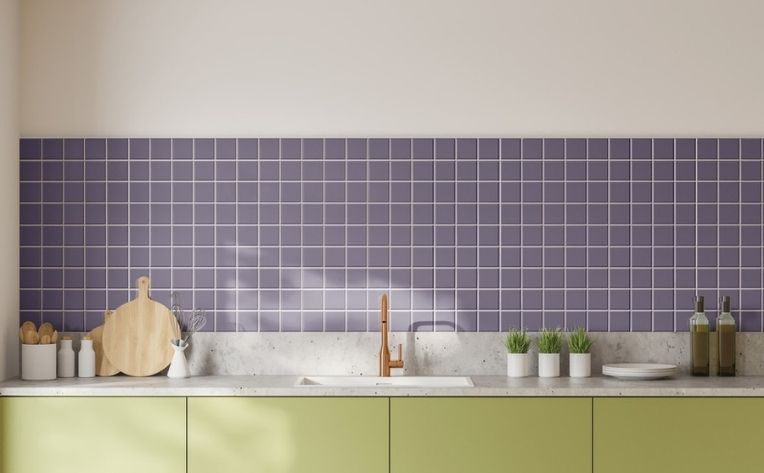 Color Wheel Classic by Daltile
To better explain the deeper meaning behind the color, we turn to Leatrice Eiseman, Executive Director of the Pantone Color Institute. According to Eiseman, this borderline purple hue is great for expressing creativity and imagination.
"As we move into a world of unprecedented change, the selection of PANTONE 17-3938 Very Peri brings a novel perspective and vision of the trusted and beloved blue color family, encompassing the qualities of the blues, yet at the same time with its violet red undertone, PANTONE 17-3938 Very Peri displays a spritely, joyous attitude and dynamic presence that encourages creativity and imaginative expressions," Eiseman says.
A Timely Splash of Color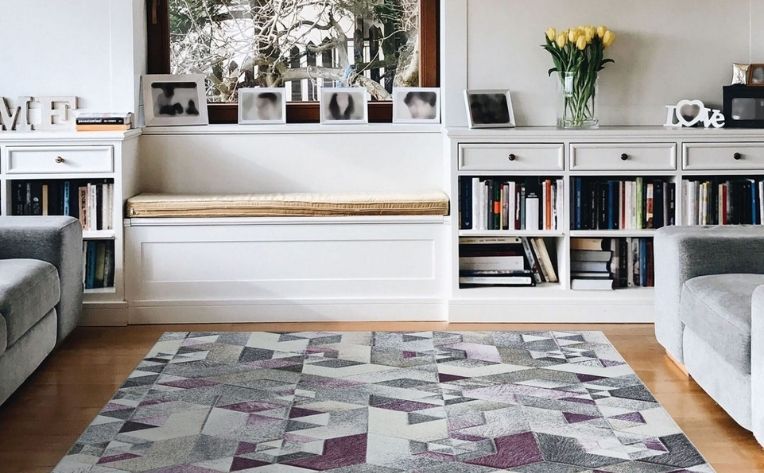 Prairie Falsterbo Byzantine by Couristan
After being confined to our homes for so long, the sterile nature of monochrome palettes and minimalism is out! More people are pivoting hard to maximalism with weird, whimsical, and wiggly décor pieces that are bursting with unapologetically fun energy. Very Peri perfectly encapsulates these changing attitudes, as it displays a daring curiosity that frames the future in a new light. Take this color into consideration when you find yourself looking to make a modern, colorful update to your surroundings at home.
Incorporating Very Peri into Your Home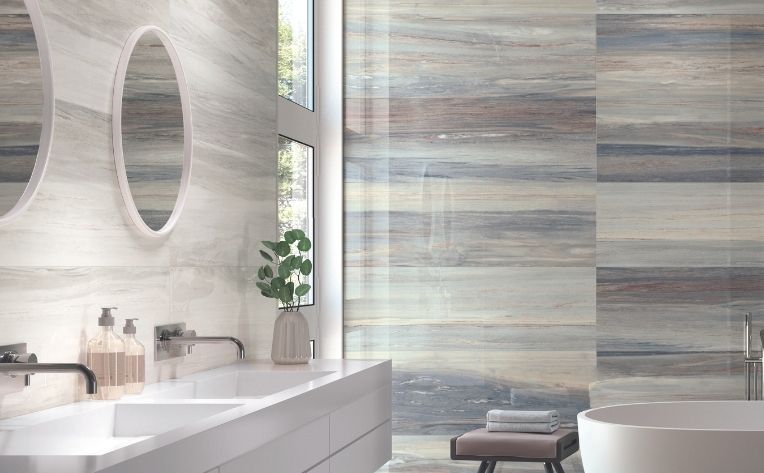 Kudos Indigo Rectified Glossy Ceramic Emser Tile
While Very Peri can seem overwhelming as a dominant color in your home, there are many ways you can use it to punctuate your space. Try using it on an accent wall or incorporating it into a wallpaper design. Still too much? You're bound to see furniture pieces in Very Peri soon that could add the perfect pop of color. Maybe something in between? Consider border tiles or a backsplash that features Very Peri.
Floors That Complement the Color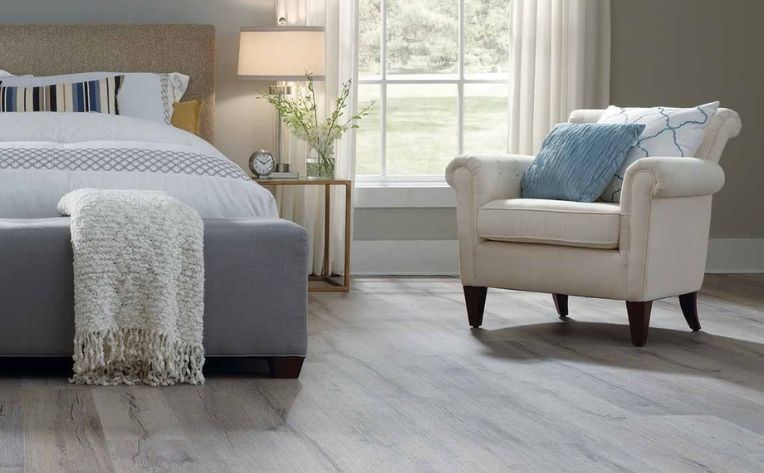 If you want floors that scream 2022, your best bet is tile, carpet, or luxury vinyl since those can be manufactured in any color. But if that seems too intense for a floor color, you'll want to shop for complimentary floors by focusing less on the color itself and more on the attributes of the color –paying attention to charm and personality – that make it perfect for 2022. No one truly knows what this year will bring, but we hope that Very Peri inspires you to stay creative, embrace new possibilities, and reinvent yourself and your home along the way.
More Flooring Inspiration & Tips
For more of the latest interior design trends and inspiration, check out our latest issue of Design at Home by Flooring America.
Continue Reading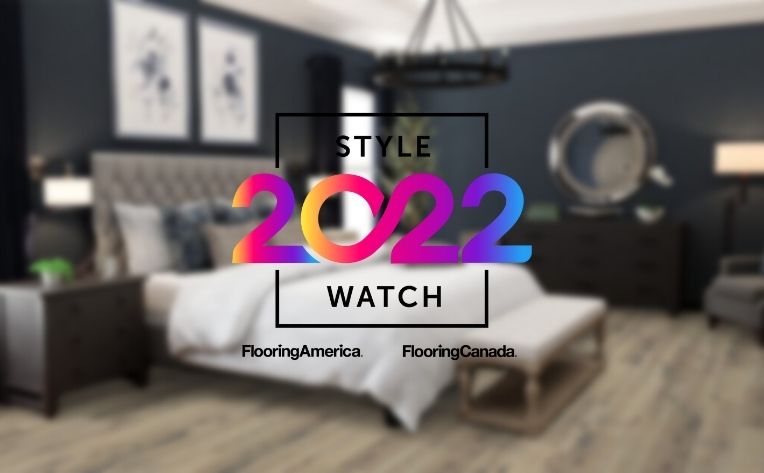 Jan 03, 2022
2022 is all about moving forward and embarking on new journeys. And what better way to reign in the new year than with new flooring? Wipe your slate clean by adding a fresh canvas to your space. Whether it's a bathroom renovation, a new office, or an extended master suite, we have insight into this year's top flooring styles so you can strike the perfect balance between personal taste and hot trends.
1. Lighter and Brighter...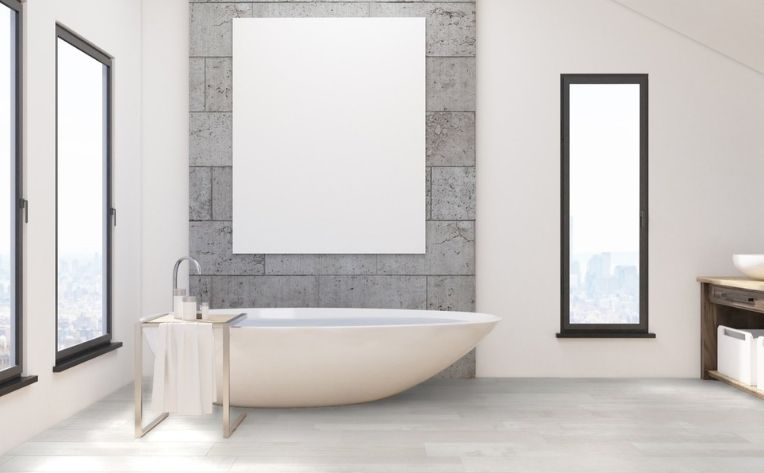 Light floors will continue to be popular in 2022, making white oak and white ash appealing choices for many homeowners wishing to remodel their floors. Light colors often open up your home and give the perception of space with their light and airy appearance. This is because light surfaces act like mirrors and refract light to make spaces with few windows and natural light feel larger and less confining.
2. Hints of Blue
Riverside Jungle by Tigressa Cherish in Lakeside
If you want to add a touch of color to your home but aren't sure what to pick, blue is the perfect place to start. Blue itself will always be vogue and you can use brighter renditions of blue hues to provide a splash of color as an accent to your home design or you can find blue shades to keep your space looking neutral. You'll get the most out of this color trend by adhering to the basics and infusing blues where you see fit.
3. Organically Natural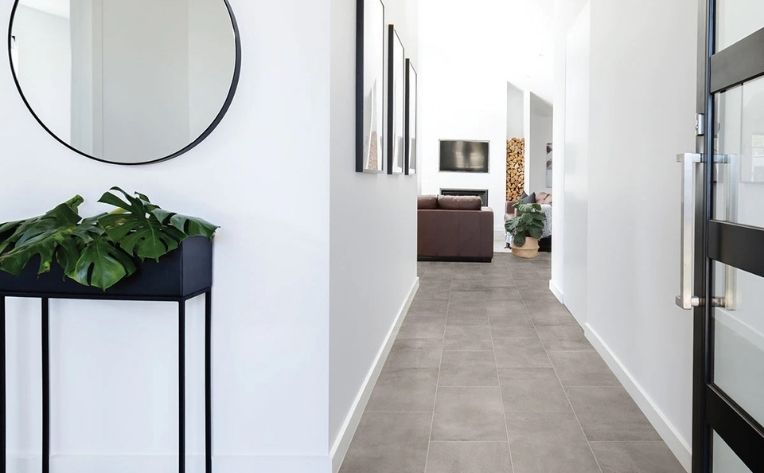 Revo Tile by Floorcraft in Power Grey Matte
We're going back to our roots this winter, focusing on nature-inspired textures and all natural materials. Bring this trend into your home with wood, natural stone or greenery to lift your spirits during the dark of the year. These elements simply breathe life into a space when combined with other natural elements or even a variety of organic materials. Who doesn't enjoy fresh flower arrangements, warm wool blankets, and nature's healing properties?
4. Unlimited Variation
Downs H2O Plank in Bristlecone Pines
Finding beauty in variance is an important part of this year's design trends. Following a season of monochrome palettes with whites, grays and beiges, adding little variety might not be such a bad idea. The advantage of having various colorations across your floors is that it makes it easier to decorate the surrounding room with the warm and cold tones present in the various floorboards.
5. Distressed Vintage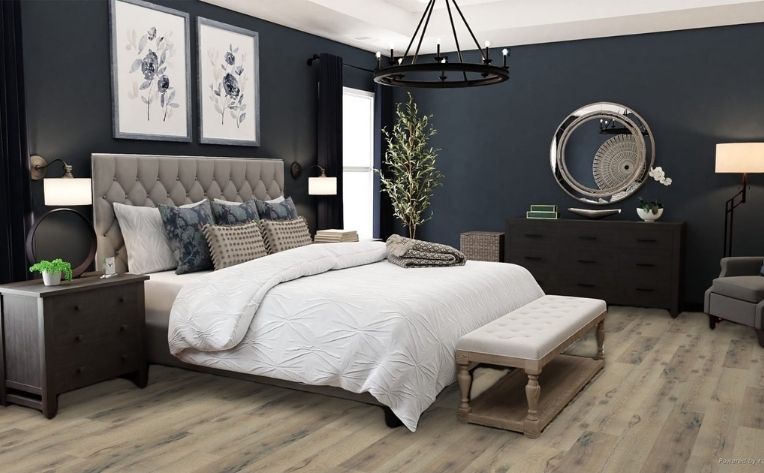 Gilmore White Oak by Floorcraft Heritage in Burly
From white-washed antique barn looks to hand-scraped European Oak, vintage styles have a timeless charm. And, as the saying goes, "everything comes back in style." This trend aims to create lived-in interiors while also attempting to bring back all of your favorite aspects of retro styles from timeless classics like black and white tile to traditional dark hardwood flooring. And what's not to like about a little nostalgia?
6. Multipurpose Workspaces
Moonlight by Tigressa Cherish in Reflection
Let's be honest: more work from home time is inevitable this year, therefore it's critical to enhance your home's working areas. When you feel good about a room, you're more likely to relax and, as a result, your productivity is enhanced. Upgrade your home office or co-working environment with floors that are functional —and comfortable to stand on for those with a working desk —and you'll notice a difference in not only your mood but also your performance.
7. Waterproof Flooring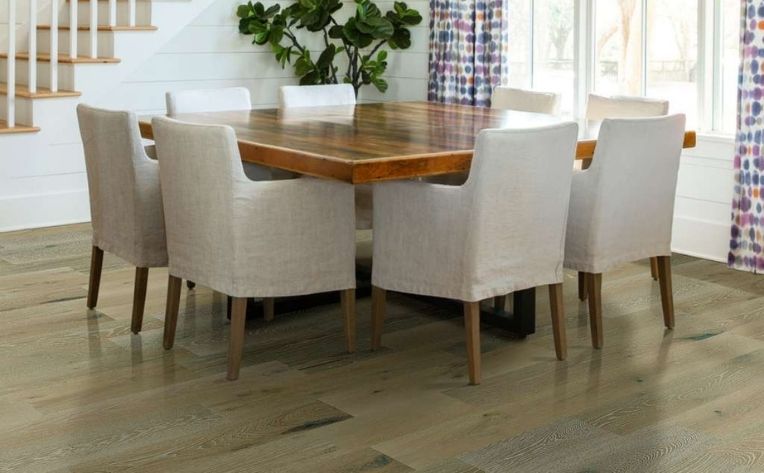 Lanes Prairie White Oak in by Aquadura H2O in Banana Cream
No one understands the necessity of having a floor that can handle life's toughest messes better than an active family with kids and pets running underfoot. Spills, scratches, and dents have no chance against this year's flooring products, which can withstand all kinds of unexpected accidents thanks to waterproof cores and revolutionary scratch-resistant technology. Even households without pets or children can benefit from the extreme durability of this top-of-the-line flooring, which is not only built to endure but also beautifully crafted out of white oak.
8. Patterns on Patterns
Define Yourself by Design Distinctions in Sugar Sand
When we talk about this season's trending patterns, we don't mean gaudy designs or flecked movie theater carpets. Patterns can actually be an inconspicuous addition used to elevate your existing decor. Since they offer fun textures and add dimension, patterns lend a distinct warmth to your home design that can be subtle. But if you're looking to hop on the maximalist trend, feel free to go bold with loud layered prints. Whatever your style, be sure to include some patterns this season whether it's a delicate textured wallpaper or a dramatic animal print area rug.
9. Luxurious Comfort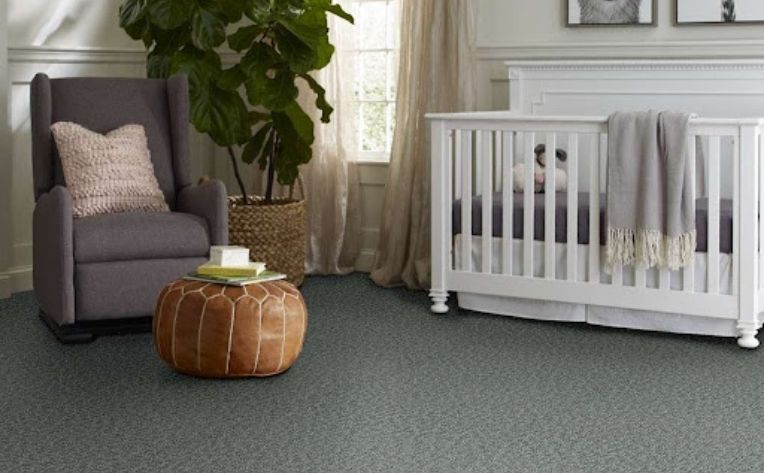 Rival & Delightful by Rival by Resista in Succulent
As we've seen, nostalgia for past comforts is alive and well, with trends like cozy cottage core, wallpapered walls, and vintage furniture taking center stage. Everyone is seeking the comfort of a soft carpet underfoot this winter, and nothing beats getting out of bed in the morning to sink your toes into this plush surface. Return to luxurious comfort by installing carpet in your bedrooms, living rooms, and family areas.
10. Charismatic Personality
East Bluff by Floorcraft in Wynford
While many new styles include modern finishes, the charisma of warm and natural-feeling flooring has a habit of finding its way back into homes year after year – and this year is no exception. There's evidence that this trend is hot for 2022, with aesthetics that thrill both traditional and blended design types like modern farmhouse and shabby chic. Take a look at the endless interpretations of this style to realize how beautiful it can be in any home.
Continue Reading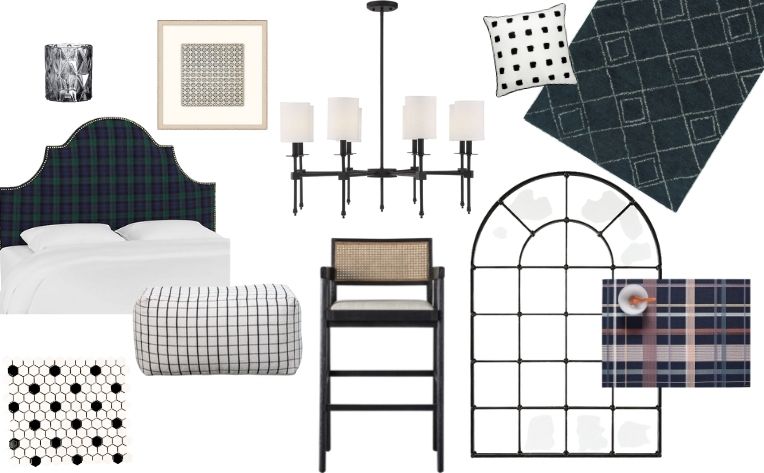 Dec 22, 2021
Tango Placemate by Burke Decor, Maria Cream and Black Gridded Pouf by Scout & Nimble, Rockhill Pillow by Renwil, Hedren Headboard by One Kings Lane, Chatham 8-light Chandelier by Savoy House, Smoke Tea Light Candle Holder by CB2, Kroy Cane Back Barstool by Arhaus, Grand Palais Arch Mirror by Ballard Designs, Influence in White/Black by Emser Tile, Hoka area rug by Kaleen, Repetition 8 Artwork by McGee & Co
With the holidays behind us and January quickly approaching, we're looking to hit the reset button and freshen up our homes this year. Kick-off your New Year with a cozy mix of patterns in chic checks and plaids. Pairing plaid and checkered patterns create a lively interior style that is both trendy and high-spirited. Colored plaids enrich the look and add intensity while neutral plaid patterns provide the simplicity needed to complete the checks and plaids style.
Here are four simple ways to incorporate checks and plaids into your home design this winter.
Cuddle Up with Plaid Patterns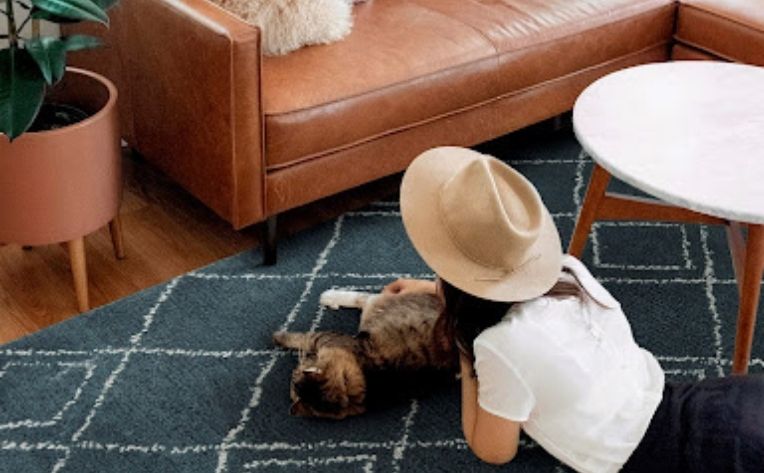 Hoka area rug by Kaleen
Checkered carpets and plaid area rugs are in high style this season. Available in a variety of patterns, prints, and colorways, checks and plaids are easy to mix and match with your design themes. Whether you're looking to upholstered your living room with a soft plush carpet or just adding an accent rug under your dining room table, plaids and checks will never fail to give your room that extra dash of texture. And, if you're trying to decide between adding checks or plaids, there are a few things you should take into consideration. Plaid patterns are generally more complex and have an abstract feel to them that's more contemporary. Checks, on the other hand, are typically symmetrical and lend a simpler style to the room that has a traditional feel. Depending on your design style, one might be more suited to your space than another —and depending on the size of your room, large-scale plaids versus smaller checks can also manipulate the feel of space in the room!
Invest in Stunning Penny Tile Backsplash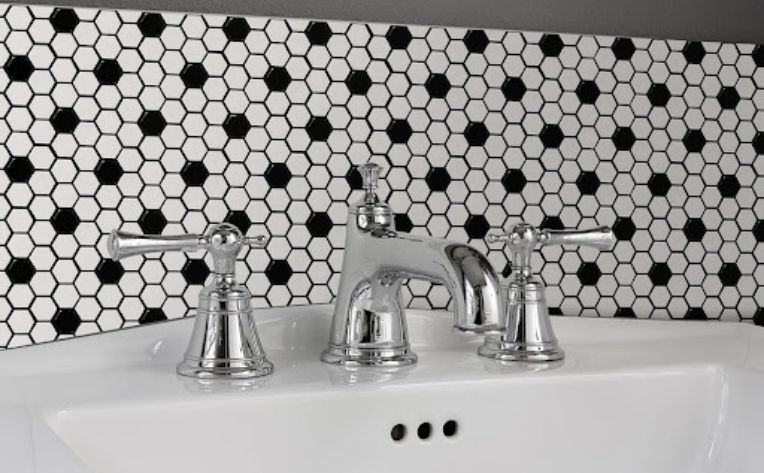 Influence in White/Black by Emser Tile
Another easy way to add checks to your space is through tile backsplashes and accent walls. For instance, this retro black and white backsplash behind the sink combines a checkered pattern with a traditional mosaic in the way of penny tiling. The Influence tiling has a clean and striking look to it in the way of a neat checkerboard patterning. Plus, it provides enhanced visual interest in bathrooms and kitchens that can be easily installed as shower flooring or sink backsplashes.
Layer in Simple Light Fixtures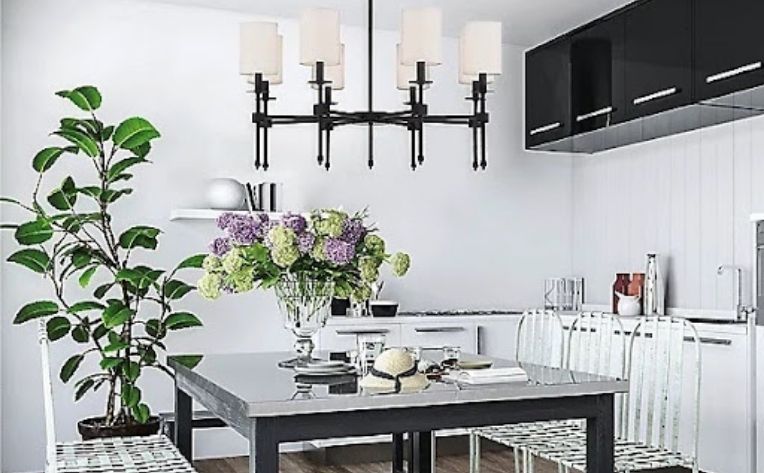 Chatham 8-light Chandelier by Savoy House
Looking for a subtle way to incorporate checks and plaids? Oftentimes these two are thought of as just a print found in textiles, however, this trend plays on the creation of shapes and lines. Play with the structure of your furnishings, such as layering in cane-backed dining chairs, plaid headboards, and palladian-style windows and mirrors. Even using structural light fixtures as points of interest works to establish a common checkered theme, like this 8-light chandelier by Savoy house.
Elevate Your Space with Cozy Natural Accents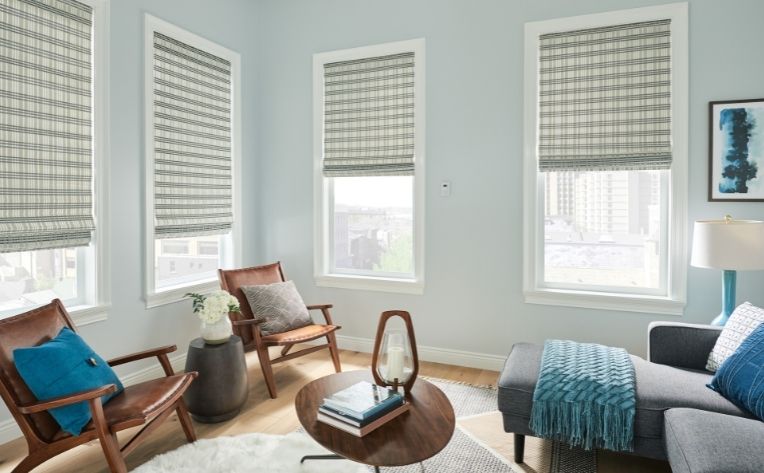 Natural Shades by Graber
Lastly, use natural materials and fibers to complement your bold checks or plaids. Leather-backed chairs, hardwood floors, and wool throws work beautifully in their neutral colorways to highlight the busier prints of checks and plaids that you might incorporate through pillows, window shades, and rugs.
Looking for more design inspiration for your home this winter? Check out our latest issue of Design at Home magazine to learn about all the latest trends in flooring and get exclusive interior design advice from our designers.
Continue Reading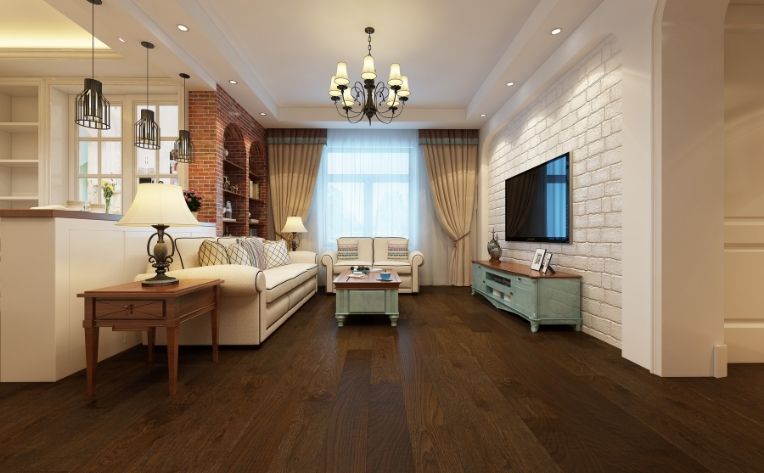 Dec 22, 2021
Renovating a historic home is all about focusing on restoration and preservation. What's the point of even buying a historic home if you're going to completely change it? People are drawn to historic homes because they bring with them a uniqueness that you can't get with a new cookie-cutter or prefabricated home designed solely to be built as quickly as possible. When your historic home was built, there was care put into it, and you'll feel rewarded when you put your own care into it as well.
Check Restrictions
Before you undertake any large renovations for your historic home, you're going to want to check if there are any restrictions on your home. Many older homes are said to be of architectural significance by the National Register of Historic Places. This can sometimes limit what you are allowed to do to the home in terms of renovations. Typically, you'll run into trouble if you try to add square footage, replace windows and shutters, replace the roof with newer materials, or change the color of the house.
Prioritize Projects
Overall, it's important to prioritize your projects because you won't be able to, nor should you want to, change everything about your historic home. Problem areas affected by water damage and dry rot should come first. Older homes that have stood the test of time are subject to foundation issues that will be much more important to deal with than updating a bathroom. When you're ready to renovate, don't skimp on the materials. It's far better to renovate less with the best materials than it is to renovate more with lesser materials. The outcome may not be as high quality as you'd like and will probably need another update in a shorter time frame.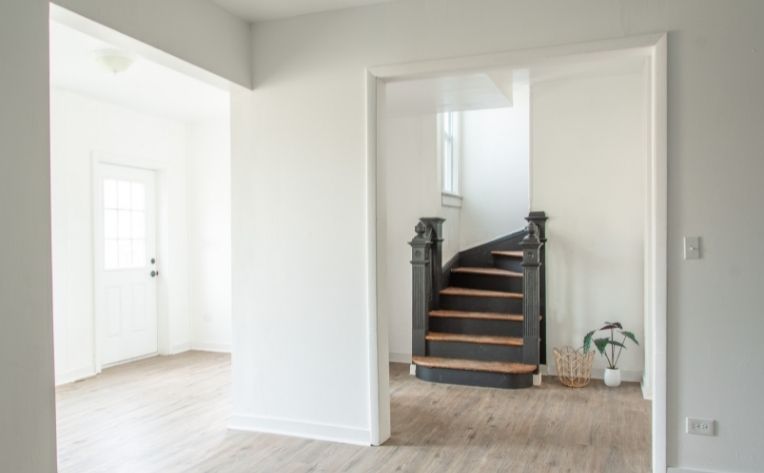 As mentioned above, you didn't buy this home to make it look like all the other ones on the street. Don't try to change everything about your home. Embrace the parts of your historic house that make it unique and start your renovations there. Preserve those pieces by restoring them to their former glory. If they drew you to the house as is, imagine how others will feel once you've updated them to look like new. Those are the parts of your house that make it special enough to be your home.
Looking to Modernize?
All of this is not to say that you can't or shouldn't make any updates at all. There are plenty of modern updates that you can make to aspects of historic homes, such as kitchen appliances, showers, lighting, and window dressings. Changing out some of these pieces for more modern options will give your house the fresh feel you want while preserving the uniqueness that makes it so valuable.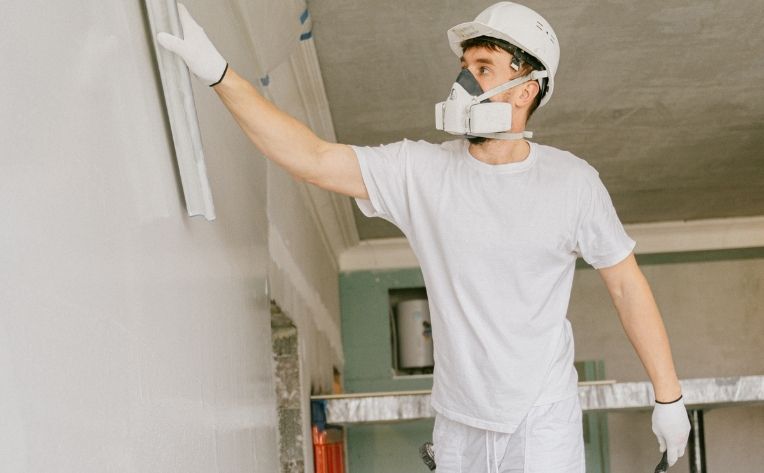 To Refinish or Invest?
Wood floors may be a great place to start your historic home's renovations. Instead of tearing up those old floors, you can sand and refinish them. Most older homes have beautiful, wide pine floors that are hard to duplicate today. The cost of refreshing those floors is almost always cheaper than replacing them with something new. But sometimes, historic floors can be beyond repair and need replacing. If that's the case in your home, the experts at your local Flooring America are always here to find replacement floors that will match the historic design of your home.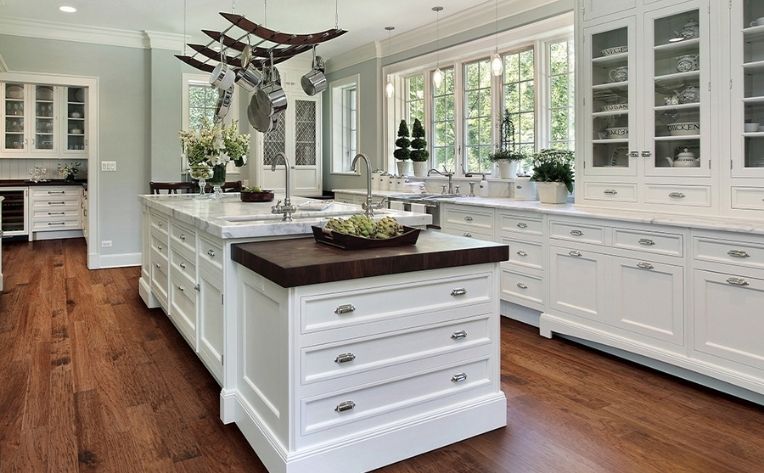 With everything from hand-scraped hickory to distressed white oak and rich-grain quarter sawn hardwood, Flooring America has the ideal updates for your floors that will provide a seamless blend between vintage and contemporary. Let our flooring experts guide you through our extensive array of hardwood flooring products and our experienced installers carefully handle the flooring restoration of your historic home. Some contractors don't have any experience working with historic homes, and you may not want them figuring things out for the first time on yours.
Continue Reading